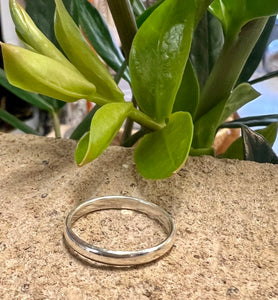 Skinny Sterling Silver Band Ring
A skinny sterling silver band with a shiny rounded finish. Use it to stack with other rings or wear them across your fingers. Layer it with another favourite on your thumb too. A simple band that is made from tarnish-resistant 925 Sterling Silver, this piece is ideal for everyday wear. Show off its simplicity and sustainable beauty - a timeless fashion statement to be worn and gifted.
925 Sterling Silver
Approximate weight: 2 grams
Approximate width: 3 mm
We love sterling silver jewellery at BE Lifestyle Boutique as it is a sustainable option. You can wear it forever and gift it forever too. If you do ever find yourself with pieces you no longer wear, you can have them melted down and a new creation made.