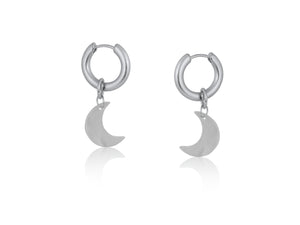 Mother of Pearl Moon Huggie Earrings | Silver
These Big Metal London earrings are a statement, the silver huggies have a beautiful mother of pearl star charm.  The iridescent colour is so beautiful and the charm will move as you do. Wear them on their own or wear with your other favourite earrings to create a curated look. 
They would also make a lovely gift. 
Size 3.5cm
Hypoallergenic, Nickel Free, Hand Made Brass, Freshwater Pearls