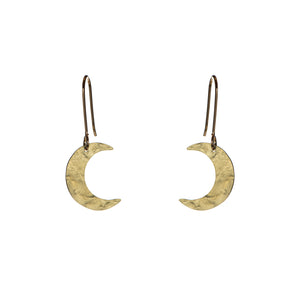 LUNA Brass Moon Earrings | Just Trade
These beautiful brass moon earrings from Just Trade are part of the LUNA collection which is inspired by the mythology of Peru and Ecuador and was designed by up and coming jewellery designer Sophie Howard. Handcrafted by artisans in Peru and Ecuador, the earrings feature a crescent moon made from hammered brass on gold plated hooks.
These earrings will draw attention and admiration. It is an ideal way to show the world your unique style and support ethical production.
With gold plated earring hooks.
Dimensions: Approx drop 3.3cm
Packaging: Packed on a Just Trade tent card in a biodegradable cello bag. 
Just Trade is a collaborative and innovative brand. It collaborates with artisans around the world to create handmade jewellery and accessories.  
Born out of the recognition that in order for small Fair Trade projects to be sustainable, they need a long-term route to market for their goods, Just Trade now works with eight groups of artisans in Peru, Ecuador, India, Indonesia and Vietnam.
Combining traditional craft skills and materials with expert knowledge of contemporary jewellery and accessories, we have developed ranges of unique, characterful pieces with strong appeal in the European market.