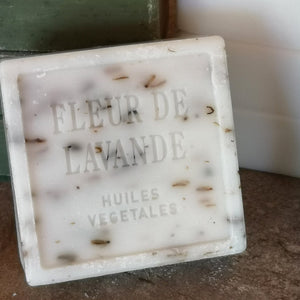 Lavender Flower Soap | Savon Fleur De Lavande
Smell the gorgeous and calming scent of lavender as you use this beautiful artisan soap from Marseille in the South of France. A large block of soap filled with lavender flowers and the intoxicating smell of peace and calm. 
This delicate white soap filled with pieces of lavender flowers makes it really beautiful to look at and simply divine to use.  
Size: 7.5x7.5x3cm
Weight 145g