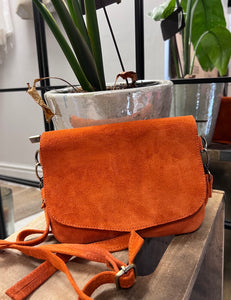 Orange Handmade Moroccan Suede Handbag
This suede handbag is handmade in Marrakech and is the perfect small crossbody bag for rushing around town or to take out at night. Perfect to carry your keys, your phone and a lipstick. It can be worn either with the shoulder strap, or attach the leather wrist strap to turn it into an evening clutch bag. It is such a versatile accessory! 
This bag features a main zipped compartment so it keeps your belongings safe. The shoulder strap is detachable and adjustable so you can find the perfect length, whether you like to wear it over your shoulder or across your body. This handbag also comes complete with a detachable wrist strap, so when you want to you can wear it out in the evening or on holiday. 
It would also make a very special gift. 
Handmade in Marrakech by talented craftsmen. 
Dimensions approximately:
Width 20cm
Height 14cm
Genuine Leather